Compare Mobile Broadband
Welcome to Compare Mobile Broadband, a site that focuses on the US mobile broadband market and helps you to choose the best mobile broadband provider.
Who are the major mobile broadband providers?
Currently the major providers of mobile broadband services are:
AT&T |

Sprint | Verizon | Virgin Mobile
Why should you get mobile broadband?
- With mobile broadband your office becomes truly mobile, and you can get your work done when you feel like it.
- If you're a business traveler, you can make your downtime productive. Waiting for your next travel connection is now a chance to get ahead rather than a waste of time. Nights away from home in hotels are now less boring.
- If you are a mobile worker such as a trucker, sales rep or construction worker, mobile broadband can bring a world of entertainment with you on your travels.
- If you are off on a camping holiday you can now take the internet with you (subject to local availability).
- Mobile broadband is now fast enough to use Voice Over IP, live webcasting and online gaming.
- Mobile broadband can allow broadband internet connections where previously this would have been difficult, e.g. at construction sites.
- You can take broadband internet with you into meetings if you need to use the internet to illustrate important points.
- Fast set-up time. It can often be quicker to set-up a mobile broadband connection at a new business site rather than wait for a traditional fixed line broadband connection. When you are travelling to conferences or exhibitions, you don't have to pay for the broadband connection there or spend valuable time getting it working.
- Mobile broadband can prove useful in business continuity situations as a back-up to your landline internet.
- Full mobile broadband is more convenient than having to find a Wi-Fi hotspot.
What Users are Saying About Mobile Broadband
Some select comments from users about mobile broadband that we found on the internet :)
"I bought Sprint mobile broadband in December and can't understand how I lived without it before. If you are always on the go like I am, this is a Must Have tool. I take my laptop everywhere (kids sporting events, car repair waiting rooms, even sitting in the car waiting to pick up kids from school) and I always have instant access. Speed seems just slightly slower to my wireless connection at home and I've really encountered no problems since I got it."
"I have Verizon mobile broadband. I got it because I was moving across the country and needed internet access wherever I happened to be. It has been a great tool for me at home when my internet goes down for whatever reason and on the go as a high speed tool that works anywhere you can get a cell signal."

"I got a Sprint mobile broadband for my laptop the other day. I can't see how I lived without this technology before. This beats local wi-fi hands down. Their coverage isn't half bad either, as I'm in the boonies right now, but have close to broadband speed for upload and download. Crazy."
Mobile Broadband FAQ
Can I connect two or more computers to one mobile broadband card?
Yes you can. You can buy a mobile broadband router into which you can insert a mobile broadband card. Other computers can then connect to the router via either the ethernet ports or using the router's WiFi signal. Thus a single mobile broadband card can provide an internet connection to multiple computers wherever there is a mobile broadband signal available. As at March 2008 an example of this technology would be the Linksys WRT54G3G-ST mobile broadband router coupled with the Sierra Wireless Aircard 595.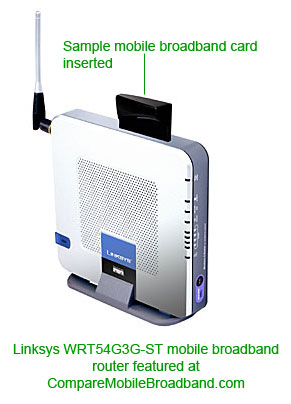 Mobile broadband routers are also sometimes known as EVDO routers because they are able to use the EVDO wireless standard to obtain an internet connection. As at March 2008, other examples of mobile broadband routers include:
- Kyocera KR1 EVDO router
- Kyocera KR2 EVDO router, which supports 802.11n Wi-Fi
- D-Link DIR-450 EV-DO router
- Top Global USA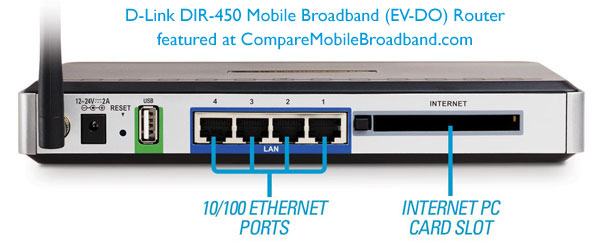 Can I use mobile broadband to supply the internet connection to my local network of computers?
Yes you can. As per the above answer, just buy a mobile broadband router (aka EVDO router) into which you can insert your mobile broadband card and then the other computers connect to the router via ethernet or WiFi.
I have one mobile broadband card, but can I use it on two different computers (not at the same time)?
Yes, but you will have to install the Connection Manager software onto both computers.

Will mobile broadband work on an Apple Mac?
Yes. Sprint mobile broadband supports Apple laptops with Intel Processors and OS X 10.4 or greater, so there are mobile broadband cards available that will work on a Macbook or Macbook Pro.
Are there mobile broadband cards that will work with Windows Vista?
Yes there are. We will expand this section to give details of individual cards shortly.
Sprint PCS Connection Card™ by Sierra Wireless™ (AirCard® 580)
Sprint PCS Connection Card™ by Novatel Wireless™ (Merlin S620™)
All cards are supported by Vista except for the Pantech PX500. Support for that card with Windows Vista will come later in 2007.
What mobile broadband standards are there?
EV-DO rev A and HSDPA.
What is EV-DO?
It's a radio telecommunications standard for moble broadband transmission that will carry a mobile broadband signal for a few miles. It stands for "Evolution Data Optimized".
What's the difference between EV-DO and WiFi?
The distance the signal will travel. EV-DO will carry a signal a few miles, whereas WiFi will only carry a signal for around 300 feet.
What is EV-DO Rev A?
It's an improvement to the EV-DO standard that makes the broadband connection speed faster. In fact it makes mobile broadband so fast that it could replace your DSL or cable internet service. Sprint launched Rev A technology in San Diego, in October 2006. To benefit from Rev A your broadband card will need to have Rev A technology and you will need to be in an area where the cell towers have been upgraded to Rev A (note that Sprint intended to upgrade its entire network by the summer of 2007).

If I'm using mobile broadband, can I still use wi-fi too?
Yes. You won't have to disable any other networking services in order to use mobile broadband. The WiFi connectivity is not affected by the mobile broadband signal as they use different radio frequencies. In fact, if you're using a mobile broadband router to connect to your mobile broadband service, then your computer may still use wi-fi to connect itself to the router.
How good is mobile broadband and are there any issues with the service?
The speed of a mobile broadband service can be slowed down if there are many people connecting at the same time, i.e. it can be subject to capacity issues.
Other Mobile Broadband Sites
Best Mobile Broadband UK - Find out about mobile broadband providers in the UK.
Compare Mobile Broadband UK - Compare UK mobile broadband providers.
Thanks for visiting our Compare Mobile Broadband page. We hope it helped find what you were looking for.